RENO Safari Club International
Her paintings are soulful and energetic. You can feel the wildlife's breath as it prepares for battle and hear the stomping of hooves as the animals' race off of the canvas. It comes as a surprise to many that behind these paintings is the vibrant and absolutely delightful 28-year-old Amy Keller-Rempp. KeIler-Rempp has been an artist for 18 years, drawing from her love of the outdoors to create realistic paintings of the animals she has admired her entire life.
"I have to give all credit to God for being blessed with this talent since I was a small child," said KeIler-Rempp.
Keller-Rempp grew up in eastern Ontario, Canada, in a very rural community; her family's home sat on 300 acres of land. Hunting and fishing as a family was part survival, part family-bonding. Creating art around her experiences eventually became a way of healing for Keller-Rempp as a young child.
"I was about seven years old when my dad was diagnosed with MS. The next 14 years were a difficult journey far the family, "KeIler-Rempp said. "To get through those years of life, I relied on art and creativrity to relieve that stress."
Keller-Rempp's father was an avid outdoorsman, the true inspiration for her love of nature, and continued to hunt even from his wheelchair, up through his passing in 2008.
"It came to the point where my father could only leave for deer season. My entire family would get together to make sure he could get out to hunt white-tailed deer in November," said Keller-Rempp.
It was this very experience that drew Keller-Rempp to Safari Club International.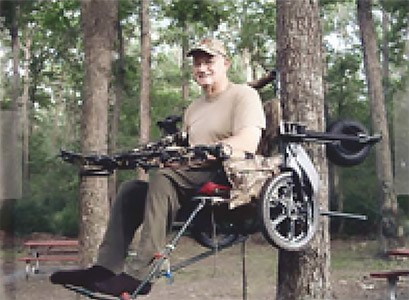 "I saw that Safari Club International gave the opportunity to the disabled to get out into the wilderness, and I connected with them quickly."
Among Safari Club International's (SCI) many humanitarian efforts is the Disabled Hunter program, designed to help disabled hunters experience the hunting tradition. According to SCI, since 2005, SCI Chapters have provided 1,009 disabled hunters with hunting opportunities. There are more than 555,000 hunters and shooters with disabilities in the United States alone.
SCI stood out above all the rest to me. The fact that they are diverse and, in addition to helping disabled hunters, give money to schools in South Africa. It's all over the world, "said Keller-Rempp.
Keller-Rempp first got involved with the SCI chapter in Northern Alberta in 2009, submitting art to the yearly chapter dinner and banquet. In 2010 Keller-Rempp created an original, acrylic painting of two bighorn sheep. The piece was the highlight of the evening and was live auctioned for an astonishing $12,000, one hundred percent of which was donated to SCI.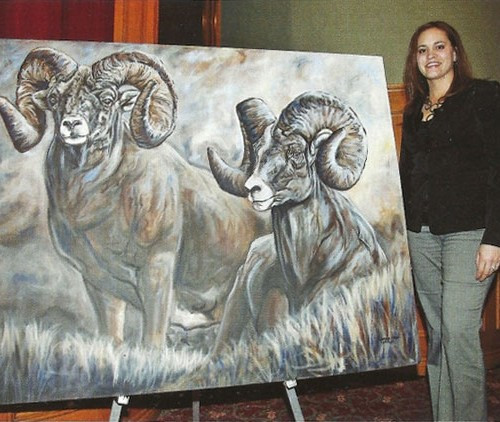 "It was an incredible experience; the highlight of my career," said KeIler-Rempp. "I feel very passionate about giving back and this is an appropriate charity and event for me and my lifestyle."
Following the tremendous success of the Alberta event, discussions arose about showcasing Keller-Rempp's work m Reno.
"We talked about what was appropriate and decided upon a moose. The images started coming to me even before we finished discussing. I can visualize these paintings before they're completed every time," said Keller-Rempp.
Keller-Rempp's latest piece, titled "King's Battle," is her largest painting to date, standing at 48″ x 72″. Its showing at the Safari Club International Convention in Reno, Nevada will be the first time Keller-Rempp's work will appear before an American audience.
"There are so many artists waiting to get in, and I'm so fortunate and blessed. I feel it's a force bigger than mine and the people involved," said Keller-Rempp.
Keller-Rempp worked on "King's Battle" for five weeks. It has safely arrived in Reno and is ready to be part of a four-day auction during Safari Club International.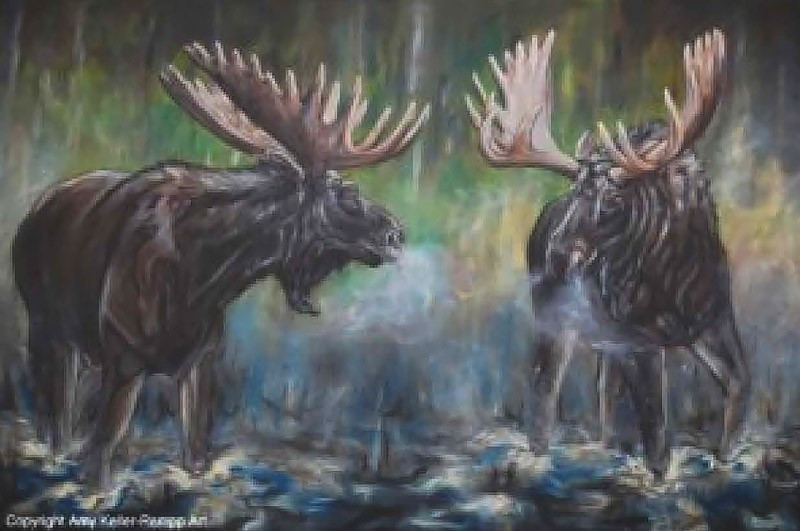 "I'm honored to be a part of an event that helps shed some light on hunting. Hunting and conservation is huge. For people to have the opportunity to learn about different animals; the science, biology, animal control, repopulation, disease control. To have all of this information on hand is incredible," said Kelller-Rempp.
You can see KeIler-Rempp's piece, "King's Battle," during Safari Club International Annual Hunters' Convention, January 26-29, 2011, at the Reno-Sparks Convention Center.
As for what's next for Keller-Rempp, she says a busy year is ahead.
"I'm living in Alberta now and have fallen in love with western Canada. I have several shows lined up, including one on February 18 in Fort McMurray, and there are talks of a show on Vancouver Island as well," said Keller-Rempp. "I will forever be thankful to SCI. They gave me an incredible opportunity, putting my work before so many people, and I will forever be indebted."