Biggest Auction Sale of the Night - $12K, by Artist Amy Keller-Rempp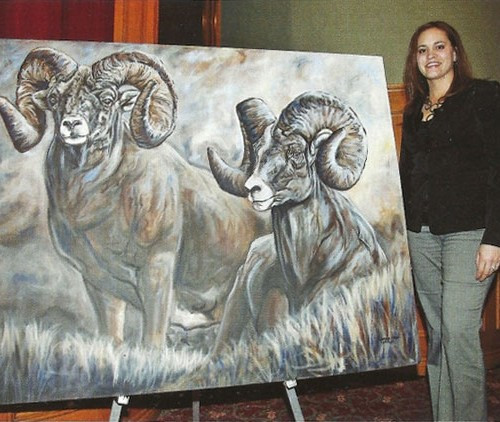 Amy Keller-Rempp with her bighorn sheep painting donated to SCI Northern Alberta Chapter
Alberta wildlife artist Amy Keller-Remp is a rising star in the art world. Working out of Fort McMurray.
Amy grew up in a family passionate for the outdoors. She started painting and drawing while in elementary school and was immediately noticed for her talent.
Her real inspiration for the outdoors came from her dad, who passed away in 2004 after suffering from multiple sclerosis for 15 years. He never let his problems hinder his enthusiasm for the outdoors. He continued to hunt deer from his wheelchair and included his family in his outdoor lifestyle.
Amy is well known for her work with horses and in 2009 was a new artist at the Calgary Stampede's Western Gallery Showcase. She has been encouraged to continue her work with wildlife from the likes of Robert Bateman.
At the Safari Club International fundraising banquet held April 10th she hit a key milestone in her career with her original, acrylic. bighorn sheep painting sold for an astounding $12,000. The bidding was intense and drew a standing ovation from the crowd of close 10 400.
Amy will do commissioned work for wildlife, hunters, anglers, people and their pets and anything outdoors.